PETER KING - August 11, 1940 - August 23, 2020
Alto, Tenor and Soprano Saxes
Composer and Arranger
| | |
| --- | --- |
| | WARM BREEZE - with the Metropole Orchestra |
| | WHERE OR WHEN - with the Metropole Orchestra |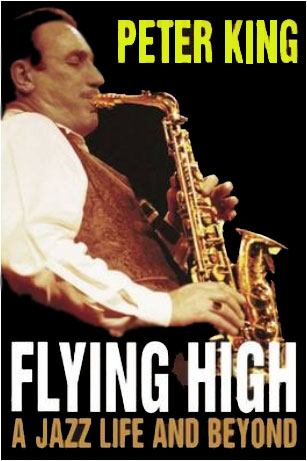 Peter's new book "FLYING HIGH" (photo René Laanen) is now in the shops.
The publisher "Northway Books", at ..
1) www.northwaybooks.com
2) www.waterstones.com/waterstonesweb/products/peter+king/flying+high/6304176/


BIO (Word Document)
PETER KING, long considered one of the world's greatest alto saxophonists, is also a prolific composer/arranger working in both the jazz and classical traditions. In a career spanning five decades of musical accomplishment, King has also found time to master the science of aerodynamics and model aviation, a field in which he has published numerous papers inleading journals. His autobiography, Flying High: A Jazz Life and Beyond, is due for publication in 2009
King exploded onto the British jazz scene at the age of 19 performing at the opening of London's internationally famous Jazz Mecca, Ronnie Scott's Club. "Had Scott's Club died overnight and been heard of no more, it could still have justified its existence by pointing to a discovery like Peter King." (Benny Green, 'Jazz Decade, Ten Years At Ronnie Scott's', King's Road Publishing Ltd 1969) "


Although he now concentrates on his work as a solo artist, King has played with many jazz greats including Bud Powell, Red Rodney, The Ray Charles Orchestra, Lalo Schifrin, Philly Joe Jones, and Elvin Jones, who said this of Peter- "A wonderful musician ..(and) of course, a master of his instrument. People are aware of that here in America as well as in England"
The list of musical legends he has worked with is daunting-from Tony Bennett to James Brown, Lauren Bacall to Marlene Deitrich, King is also known for his recorded work as a featured soloist and Musical Director/Arranger for the Charlie Watts Quintet and Tentet. In March, 2000 he toured with Benny Golson and his tribute band ROOTS.
Among his many albums Tamburello, (released in 1994), won Best CD of the Year prize at the BT British Jazz Awards. One of his best known recorded works is Janus, commissioned by the BBC. Janus was a bold and innovative work which combined both the Jazz and Classical forms. Recorded with his own regular quartet and featuring the Lyric String
Quartet, the CD of Janus received wide critical acclaim. In December of 2004, his full length opera Zyklon, (Libretto by Julian Barry), the story of the controversial German scientist Fritz Haber, was premiered in recital form as part of the City University of New York's 'Science and the Arts Series'. "Congratulations for "Zyklon."

I was very impressed with your avant-garde writing techniques, and at the same time, your sense of drama. It's very encouraging to see that there is a musician like you who travels very comfortably in the language of jazz and at the same time, classical music.-Lalo Schifrin. In 2006 King was commissioned to compose a new Mass for Jazz Quintet and full cathedral choir which premiered with great success at Newcastle Cathedral in May 2007.
In the 1960s, King performed in the Frank Norman play Cafe Up West, directed by Joan Littlewood and in 1999 he performed as a musician and actor in Sir Peter Hall's revival of the landmark Julian Barry play, Lenny, starring Eddie Izzard. King can be seen in films such as Blue Ice, starring Michael Caine and The Talented Mr. Ripley starring Matt Damon and he can be heard playing on the soundtrack for the Mike Figgis film, Time Code.
King has received awards and honours in both Music and Science. In 2005 he won the prestigious BBC Musician of the Year award and in that same year the depth of his artistic accomplishment was recognised when he was presented with a special Life Time Achievement Award at the Moscow Summer Festival. In 1998 he was honoured by the "National Free Flight Society (NFIS) in their Annual Symposium with a "Model of the Year Award for one of his winning aircraft designs and for his contribution to model aerodynamics. His letter about saxophone sound production was recently published in the prestigious magazine Science. In 2008 he received an Honorary Doctor of Letters from Roehampton University in recognition of his diverse accomplishments.
King has taught Jazz Master Classes, run workshops and given lectures internationally.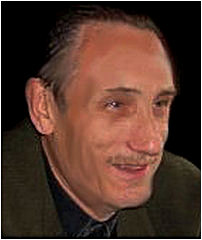 Pieter King (Photo René Laanen)
---
A SHORT DISCOGRAPHY
"NEW BEGINNING" (Spotlite)

"EAST 34TH STREET"

"PETER KING QUINTET"

"BROTHER BERNARD" (Miles Music)

"PETER KING IN PARIS" (Blue Silver)

"HIGH FLY" (Spotlite)

"CRUSADE" (Blanco y Negro/W.E.A.)

"TETE MONTOLIU" Featuring Peter King (Fresh Sounds)

"A TRIBUTE TO PARKER (with strings)" Charlie Watts 4, Continuum Label

"WARM AND TENDER" (Charlie Watts Quintet) (Continuum Records)

"LONG AGO AND FAR AWAY"(The Charlie Watts Quintet) (Virgin)

"BIG BLUES" (Jimmy Witherspoon), (JSP)

"TAMBURELLO" (Miles Music)

"SPEED TRAP" Peter King Quintet Scott's Jazz House

"THE GEORGE COLMAN QUINTET" Scott's Jazz House

"LUSH LIFE!" (To be released in September 1999) (Miles Music)

Also see: Karl Stubbs's Site about Peter King! (Lots of Photo's)