Ferdinand Povel - Tenor sax

- These Foolish Things - Ferdinand Povel Tenor Saxophone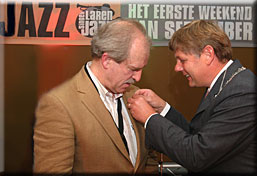 Ferdinand ontving in Laren (2004) een "Koninklijke Onderscheiding".

Ferdinand geldt inmiddels al lang, en onbetwist, als een van de grootste jazzsaxofonisten van Europa. Zijn hoofdinstrument is de tenorsax, maar ook op de altsax voelt hij zich bijzonder op zijn gemak. Op beide instrumenten heeft Ferdinand een enorme big band ervaring. Zo heeft hij bijvoorbeeld bij de Skymasters geruime tijd lead-alt gespeeld.
Onderstaand een- uiteraard niet volledige -opsomming van de belangrijkste feiten uit Ferdinand's muzikale levensloop:
1964 Winnaar van het Loosdrecht Jazz Concours.
1969 Met het Summit Quintet van trompettist Dusko Goykovich, waarin o.a. drummer Philly Joe Jones, club- en festivalconcerten door geheel Europa.
1971 Als invaller, (maar dan toch!), een aantal optredens met de legendarische Kenny Clarke / Fancy Boland big band.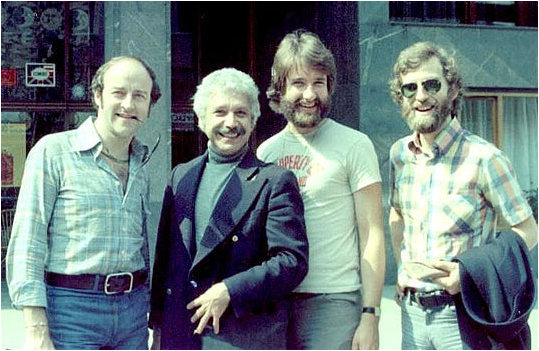 In 1975:
Op tournee in Lubliana (Yugoslavia) met de Peter Herboltzheimer Big Band.
(Eddie Engels, Frank Rosolino, Jiggs Whigham en Ferdinand Povel).
1971-1985 Regelmatig op tournee met Peter Herbolzheimer's Rhythm Combination and Brass.
1972 Gedurende een vol jaar concerten, radio- en televisie- uitzendingen met het roemruchte Kurt Edelhagen orkest.



1973 Lange tournee door de USA (incl. plaatopnames) met de band van Maynard Ferguson. Zijn solo: "I'm Getting Sentimental Over You" is geweldig!
1981 Ferdinand ontvangt de Nordring Radio solistenprijs.


Vanaf 1978 maakt Ferdinand deel uit van de Skymasters, waarin hij de eerste tenor- of de eerste alt-plaats bezet. Met de Skymasters heeft hij onnoemelijk veel top-solisten begeleid.

Eveneens in 1978 werd hij hoofdvakdocent saxofoon
aan de Conservatoria te Den Haag, Rotterdam en Hilversum.

Hij concentreert zich voor wat zijn docentschap betreft,
geheel op het conservatorium van Amsterdam.
Zoals gezegd: deze lijst is verre van compleet. Tussen bovengenoemde activiteiten door waren c.q. zijn er optredens met andere groepen, zoals het Cees Slinger Octet (1982-'83), de Netherlands Concert Jazz Band, de George Grunz Band, kwartet- en kwintet-bezettingen met pianist Cees Slinger of Frans Elsen of met gitarist Wim Overgaauw. Ferdinand stond in de frontline met mensen als Woody Shaw en Jimmy Knepper, om er enkele te noemen.

Performed with

| | | | | |
| --- | --- | --- | --- | --- |
| John Marshall | Ruud Breuls | Leo Janssen | Piet Noordijk | Rob Madna |
Benny Bailey, Billy Brooks, Bob Burgess, Philip Catherine, Pete Christlieb, Ab Schaap, Isla Eckinger, Dexter Gordon, Leo Janssen, Rein De Graaff, Frank Rosolino, Joe Haider, Slide Hampton, Laura Fygi, Ole Jacob Hansen, Eric Ineke, Bart van Lier, Jesper Lundgaard, John Marshall, Ruud Breuls, Horace Parlan, Fritz Pauer, Doug Raney, Juan Romero, Ack Van Rooyen, Jerry van Rooyen, Rob Pronk, Rob Madna, Bernt Rosengren, Andy Scherrer, Cees Slinger, Idrees Suleman, Piet Noordijk, Klaus Weiss, John Engels, John Marshall, Jimmy Woode, and the Netherlands Metropole Orchestra.

Links

- http://www.lensworx.com/projects/jazz/jazz.htm [Jazz Photo's]
- Baileo Big Band [videoclip]


Discography

LIVE AT CAFE HOPPER - ANTWERPEN - Challenge Records
Ferdinand Povel - tenor
Rob Madna - piano
Marius Beets - bass
Eric Ineke - drums

Ferdinand Povel has worked with the following artists:

Marius Beets concerts in 2002
Pete Christlieb concerts in 2002
Rein De Graaff concerts in 2002
Eric Ineke concerts in 2002
Peter Beets concerts in 2001
Paul Berner concerts in 2001
Ruud Breuls concerts in 2001
Cees Slinger concerts in 2001
Hans Dekker concerts in 2001
John Marshall concerts in 2001
Joost Van Schaik concerts in 2001
John Marshall concerts in 2001
Frans Van Geest concerts in 2001
Jesper Lundgaard records in 1983
Doug Raney records in 1983
Bernt Rosengren records in 1983
Ole Jacob Hansen records in 1983
Horace Parlan records in 1983
and many ...many ....more!

Isla Eckinger records in 1974
Eric Van Lier records in 1974
Billy Brooks records in 1974
Bob Burgess records in 1974
Dexter Gordon records in 1974
Andy Scherrer records in 1974
Idrees Suleman records in 1974
Benny Bailey records in 1974
Joe Haider records in 1974
Slide Hampton records in 1974
Ack Van Rooijen records in 1974
Fritz Pauer records in 1971
Juan Romero records in 1971
Klaus Weiss records in 1971
Jimmy Woode records in 1971
Philip Catherine records in 1971
-
-